According to GB/T 13304 standard, spring steel is divided into unalloyed spring steel (carbon spring steel) and alloy spring steel according to its chemical composition.

1. The carbon content (mass fraction) of carbon spring steel is generally between 0.62% and 0.90%. According to their manganese content is divided into the general manganese content (mass fraction) (0.50% ~ 0.80%) such as 65,70,85 and higher manganese content (mass fraction) (0.90 ~ 1.20%), such as 65Mn two categories.

2. Alloy Spring Steel Alloy Spring steel is based on carbon steel, through the appropriate addition of one or more alloying elements to improve the mechanical properties of steel, hardenability and other properties to meet the required performance of the manufacture of a variety of springs Steel.

The basic composition series of alloy spring steel include silicon-manganese spring steel, silicon-chromium spring steel, chromium-manganese spring steel, chrome-vanadium spring steel, and tungsten-chromium vanadium spring steel. On the basis of these series, there are some brands that add alloying elements such as molybdenum, vanadium, or boron in order to improve their performance in certain aspects.

In addition, some steel grades are selected from other steels such as high-quality carbon structural steels, carbon tool steels, high-speed tool steels, and stainless steels.

4 Wire Video Door Phone is designed for villa or single family residences and small apartments.4-wire connection with good system compatibility. Support more outdoor units connected at the same time.The indoor units can be used for individual house door phone as well,direct call to each user from outdoor unit.Outdoor unit direct push button up to 12 buttons.

1. Wired door phone Functions
1 Indoor unit audio&video intercom, monitor, unlock.
2 infrared night vision, metal camera. rainproof cover
3 7 inch TFT color display screen, clear vision and voice
4 1pcs camera can support 4 pcs monitors
5 Wired operation, very easy to install.
6 Good security product for modern family

2. Specifications
Outdoor camera
Power DC14V (Receive power from monitor )
Camera 1/3CCD or 1/4CMOS
Illumination 6 pcs Infrared light
size 115 × 115 × 40mm

Indoor monitor
Power Input:AC100-240V 50/60HZ
Output:DC 14V/1.2A
Screen 7" TFT LCD:800*480
Communication Model Hand free Communication
4-wire Connection
Chime Melody16Chimes
Maximum Power Consumption 16.8W
Dimensions 230×150 × 32mm

3. Packing
1set/gift box

12sets/carton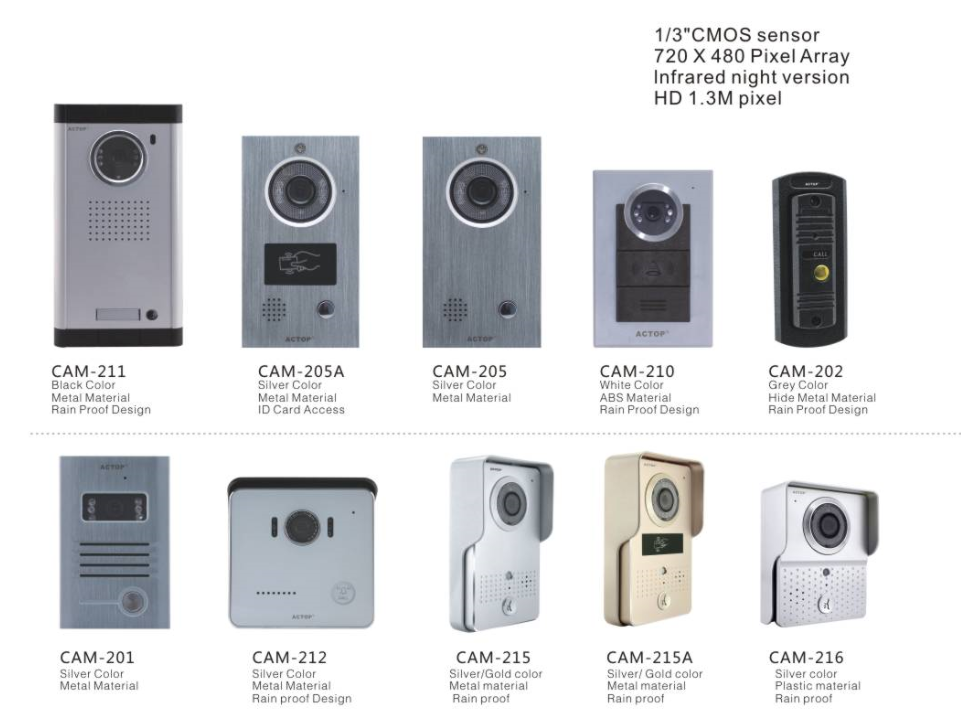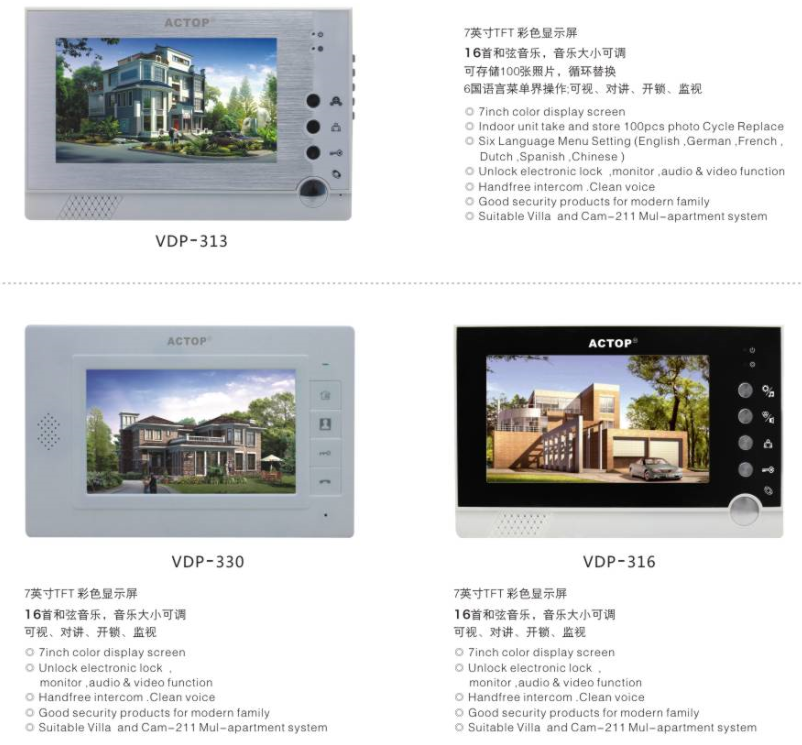 Wire Video Door Phone

Wireless Doorbell Video Door Phone,Wireless Doorbell Camera Intercom,Wireless Colour Video Door Phone,Wireless Wifi Video Door Phone

Shenzhen Zhuohao Intelligent Electronic Development Co., Ltd. , https://www.szactop-smart.com